what does the pension reform change?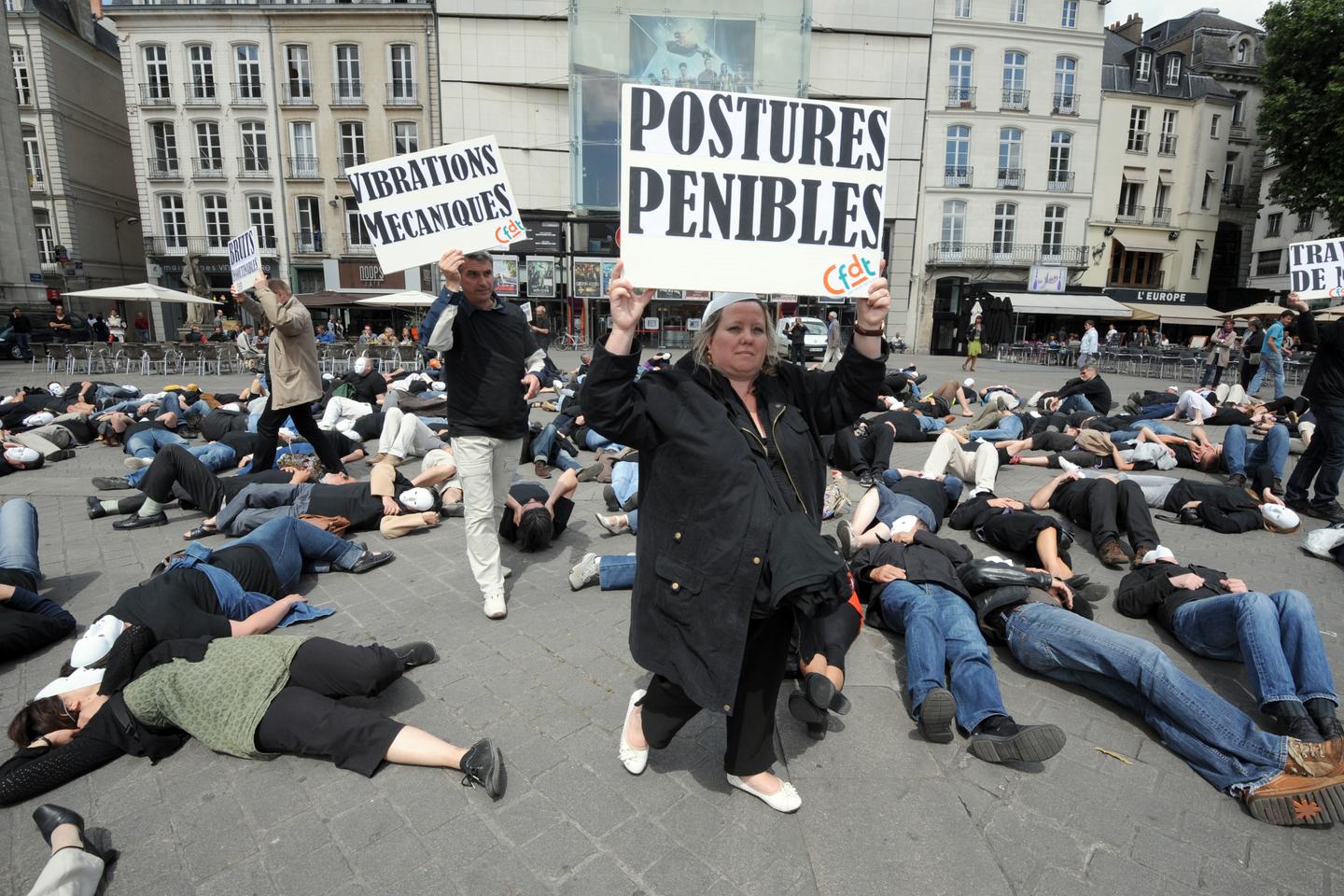 The pension reform will "improving the consideration of arduousness", praised the Minister of Labor, Olivier Dussopt, after the presentation of the bill to the Council of Ministers, Monday 23 January. But the unions, which also contest the postponement of the legal age to 64, believe that the hardship at work is still far from being recognized, and that the existing systems have been weakened since Emmanuel Macron came to power. , in 2017.
The Decoders of World take stock of how difficult working conditions are taken into account and what could change with the pension reform.
A prevention account created in 2014
The Touraine law of 2014 gradually extended the contribution period to forty-three annual installments, according to a schedule that the Borne government now wants to accelerate. But it also created the personal account for the prevention of hardship (C3P). A non-retroactive system allowing employees exposed to difficult working conditions to accumulate points to finance training, part-time work without a drop in salary or retirement up to two years earlier.
Originally, the C3P took into account ten risk factors:
"marked physical constraints": manual handling of loads, painful postures, mechanical vibrations;
the "aggressive physical environment": dangerous chemical agents, work in a hyperbaric environment, extreme temperatures, noise;
the "rhythms of work": at night, in successive alternating shifts, repetitive.
These factors are qualified according to regulatory time and intensity thresholds. For example, an employee can have noise recognized as a hardship factor if his level of daily exposure (eight hours) reaches 81 decibels on average six hundred hours per year. Civil servants cannot benefit from it since active category public jobs (which present a particular risk or exceptional fatigue) already allow early retirement.
A device planed from 2017
C3P was considered a gas plant by the Medef and little appreciated by Emmanuel Macron who had declared before the employers, during the presidential campaign, in March 2017, "I don't like the term arduousness, so I'll delete it". After he came to power at the end of 2017, the C3P was replaced by the Professional Prevention Account (C2P).
The government was not content to remove the word "difficulty", it also reformed its funding and removed four risk factors: carrying heavy loads, painful postures, mechanical vibrations and chemical risks. Many movers, construction workers or hairdressers have thus been excluded from the scheme.
An employee earns one point for each three-month period of exposure to a risk factor. In case of exposure to several factors, the points are doubled. Thus, an employee exposed throughout the year to a factor can obtain four points per year, while an employee who is exposed multiple times can acquire eight. For example, it takes ten points to obtain a quarter increase in the duration of pension insurance.
The latest annual report of the "occupational risk" health insurance system reports 643,243 employees declared in 2021 to the C2P by their employer, of whom 581,574 (i.e. 90%) have points " in stock ". More than three-quarters of them are men, 45% of whom worked in manufacturing industry sectors. More than half of the employees declared exposed in 2021 were between 35 and 54 years old.
In total, nearly 1.9 million employees have credited points since the start of the system, but only 18,933 requests to use points were submitted between 2015 and the end of 2021. In the majority of cases (61%), Applicants used their points to retire earlier: a possibility open only to employees aged at least 55 and able to advance retirement by a maximum of two years.
In a report published at the end of 2022the Court of Auditors estimated that the very small number of C2P users could "explained by the necessarily gradual increase in load". However, she pointed "a device intended to have only a reduced effect, with no impact on prevention" and that "is not up to the objectives assigned to it, in a context where the retirement age is also falling".
What does the new reform provide?
An investment fund for the prevention of professional wear and tear
Rather than reintegrating the four risk factors eliminated in 2017 into the C2P, the government has chosen to insert three "ergonomic risks" (carrying heavy loads, painful postures, mechanical vibrations) within a new Investment Fund in the prevention of professional wear and tear.
The world
– 50% on all our offers
Unlimited access to all our content from 4.99 euros per month instead of 9.99 euros
Subscribe
Endowed with one billion euros for the duration of the five-year term, it "will have the task of co-financing prevention actions with employers (awareness, adaptation of positions, training and retraining) for the benefit of these exposed employees". The bill specifies that the professional branches will have to identify the trades exposed. A way to display a new consideration of three of the four missing factors of the C2P in 2017, without restoring the possibility of retiring before the legal age. The secretary general of the CFDT, Laurent Berger, repeated on Monday January 16 on Franceinfo want to "move the lines" to reinstate the four criteria removed in 2017.
More flexible C2P calculation methods
The bill that will arrive in the National Assembly on February 6 also plans to modify the calculations of hardship points for employees exposed to the six C2P risk factors. The threshold for being considered as exposed to "night work" (at least one hour of work between midnight and 5 a.m.) would be lowered from 120 nights to 100 nights. That of "work in alternating successive shifts" (three-eight for example) would go from 50 to 30 nights. These measures, concerning the two most declared factors, should, according to the government, bring 60,000 new people into C2P.
Another measure put forward by the government: the uncapping of C2P points. So far, an employee cannot accumulate more than one hundred points during his career (ie twenty-five years of exposure to one factor or twelve and a half years for several factors). The reform plans to remove this limit. A measurement " double-edged "according to Annie Jolivet, economist at the Center for the Study of Employment and Work (CEET)-CNAM: "It can send the message that the duration of exposure is not serious since we will earn points. But we do not accumulate without consequences on health. »
The removal of this ceiling goes hand in hand with the modification of the methods of acquiring points under C2P. For polyexposed employees, the government text plans to multiply the obtaining of each point according to the exact number of professional risk factors to which the employee is exposed (three points per quarter of exposure for three factors, four points for four factors, etc.).
C2P points can be used to pay an employee as part of a professional retraining leave and one point will entitle you to 500 euros in training funding, compared to 375 euros today. For the transition to half-time, ten points will allow maintenance of remuneration for four months rather than three months today.
Reinforced medical monitoring for ergonomic risk factors
The government also wants to strengthen the medical follow-up of employees exposed to ergonomic risk factors by creating a mandatory end-of-career visit, at age 61, "in order to encourage early departure from the age of 62 at the full rate for those who are unable to continue working".
Currently, the early retirement scheme for permanent incapacity of at least 10% following an accident at work or an occupational disease gives the right, under certain conditions, to a full pension at age 60. This early departure will therefore be postponed for two years with the pension reform.
On the other hand, one of the criteria will be relaxed. For employees whose permanent disability rate is between 10% and 19%, it will no longer be necessary to justify seventeen years of exposure, but five years.
"Although they have been exposed to hardship, employees who are not sick or "not sick enough" when they approach retirement cannot benefit from early retirement", points out Serge Volkoff, guest researcher at CEET-CNAM. For the statistician and ergonomist, by medicalizing the debate, we are moving away from the legal definition of hardship, which mentions occupational risks "likely to leave lasting, identifiable and irreversible traces on his health", and not already proven incapacities.