FRANCE 2 – WEDNESDAY NOVEMBER 8 AT 11:05 P.M. – DOCUMENTARY
Bruno, Pierre, known as "Pierrot64", Annick, known as "Toupinette", and Valentin became truck drivers out of pion – you don't choose to spend your life behind the wheel of a 44 ton by chance. But, over time, with the lack of recognition and the deterioration of working conditions, for some, pion has given way to weariness.
Usually solitary and silent, they agreed to talk about it, in the hope of being better known to the general public, or even more loved. A bet held in this very human documentary, whose scope goes far beyond the framework of a single profession to reveal, over the kilometers of bitumen swallowed, the excesses of our consumer society.
Numbering 360,000, truck drivers belong to France which gets up early, "at 3:30 a.m. every Monday", specifies Bruno, twenty-six years in the profession. This allows him to pick up the trailer "at the exit of the village" before hitting the road. He will return five days later, after having traveled 3,000 to 3,500 kilometers and delivered tons of goods.
Feeling useful is what makes Valentin get up every morning, six months behind the wheel with the pride of being in " ignment " for the community. Especially, as the young man explains, his father did everything to dissuade him, going so far as to make him spend, at barely 12 years old, an entire day in a truck alongside a friend who was a driver. , Pascal Besnier (known as "Buffalo" from the time of the cibi). Failure: the kid loves it! And Pascal Besnier is now his boss.
At regular intervals, between reports and magical landscapes – but never sunny – numerical data appears. "There is a shortage of 50,000 truck drivers in France"; "Since the 1980s, two thirds of roadside restaurants have closed »…
"Economic pressure"
The markers specific to the profession are present, from the archives of the legendary show "The drivers are nice"hosted by Max Meynier (1938-2006) on RTL from 1972 to 1983, at the 24 Hours of Le Mans trucks, an annual race which will revive "Toupinette" and give him the courage to get back behind the wheel two years after his burn-out. Fear and accidents are part of this, caused by stress and fatigue.
"Pierrot64", thirty years on the road, is the first to denounce "economic pressure" which weighs on drivers since the generalization of "just-in-time flow". The proof does not take long to arrive in images, during a rather funny sequence, where we see Bruno, his arms dangling on a loading area, waiting for a shipment.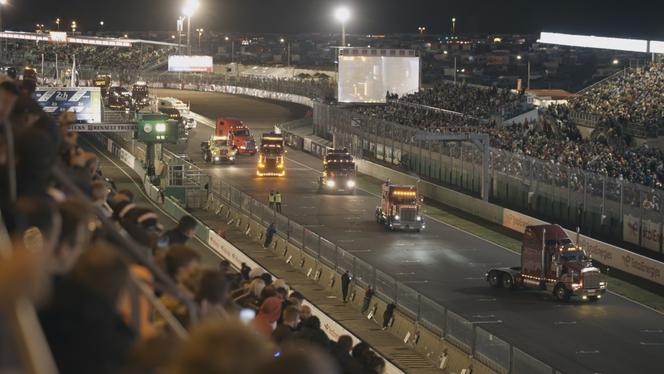 Today, this lost time weighs on him, like traffic jams and poorly parked motorhomes. He wasn't like this before. Before his boss fired him from his international position to replace him with drivers from Eastern countries, paid half as much. This was in the early 2000s. Since then, this unfair competition has driven wages down.
"Pierrot64" confronts each of us with our responsibilities. Since online sales platforms promise to deliver the day after the order, "it is the consumer who dictates the life of the truck driver"he said calmly, even if it means rolling the truck "half loaded"which is an ecological aberration. "And when you are offered free delivery, it means that the work of a truck driver has no value. » The message has gotten through.