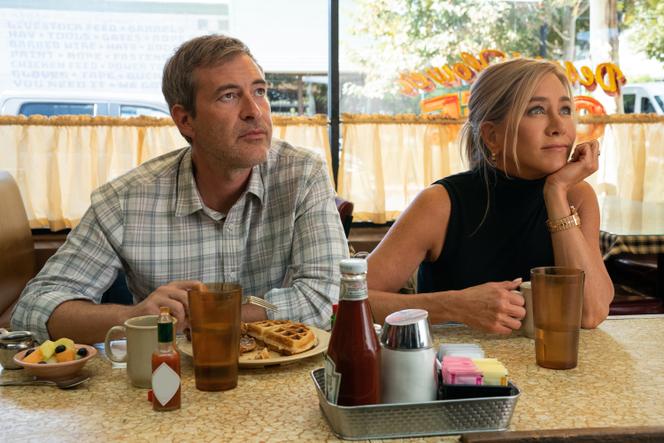 APPLE TV+ – ON DEMAND – SERIES
In this third season, we no longer see much of the morning show that gives the series its title. The two stars who shared, and fought over, the presentation of this mixture of information and entertainment on UBA, a fictional version of one of the major American networks, today have other ambitions. Alex Levy (Jennifer Aniston) would like to take a seat at the decision-makers' banquet, Bradley Jackson (Reese Witherspoon), the intruder emerging from the depths of America, tries again and again to dynamite the system from the inside.
Fueled by Apple's financial resources and certain aberrations in public life in the United States (each as unlimited as the other), The Morning Show continues its expansion like a growing galaxy, juggling genres, political themes, recruitments (welcome to Jon Hamm) and, of course, the tumultuous loves of Alex and Bradley.
On the program for this season, the growing influence of tech giants on the media, the after-effects of the attack on the Capitol, the repeal of Roe vs. Wade and its consequences for American womenthe impossible affair between Bradley and Laura Peterson (Julianna Margulies), his colleague and competitor from the neighboring network, and the amorous manifestation of the first phenomenon on this list: the violent pion which seizes Alex Levy and Paul Marks (Jon Hamm), the billionaire, who, on the strength of his success in the conquest of space, would like to acquire UBA.
Irruption by Jon Hamm
From its conception, The Morning Show posted the agenda: inject into the moralizing seriousness of the political series that he invented Aaron Sorkin a heavy dose of melodrama. This time again, the treatment is bearing fruit. These ten episodes are wonderfully entertaining, while relieving consumers of the guilt that binge-watching soap operas can cause. After all, it is also about democracy in danger, the future of press freedom, women's right to control their bodies (not to mention the war in Ukraine, entrepreneurial patriarchy, climate and stay).
The irruption of Jon Hamm remains the major event of the season. Her character is an elegant and mature version ofElon Musk. The actor rediscovers the irresistible and toxic authority of Don Dr, the publicist of Mad Menstripped of the paraphernalia that served as armor for men in the 1960s.
The choreographed love parade between the billionaire and the queen of television afternoons (Alex Levy now presents an interview show called "Alex Unfiltered") is loaded with extra-erotic issues. The first uses his mistress as a Trojan horse, the second hopes that Marks' takeover of UBA will allow him to access the power denied to him by the current boss, Cory Ellison (Billy Crudup, also dazzling as a besieged person than previously as a conqueror).
You have 42.8% of this article left to read. The rest is reserved for subscribers.