Who is Jon Batiste, the virtuoso pianist who plays for Macron and Biden at the White House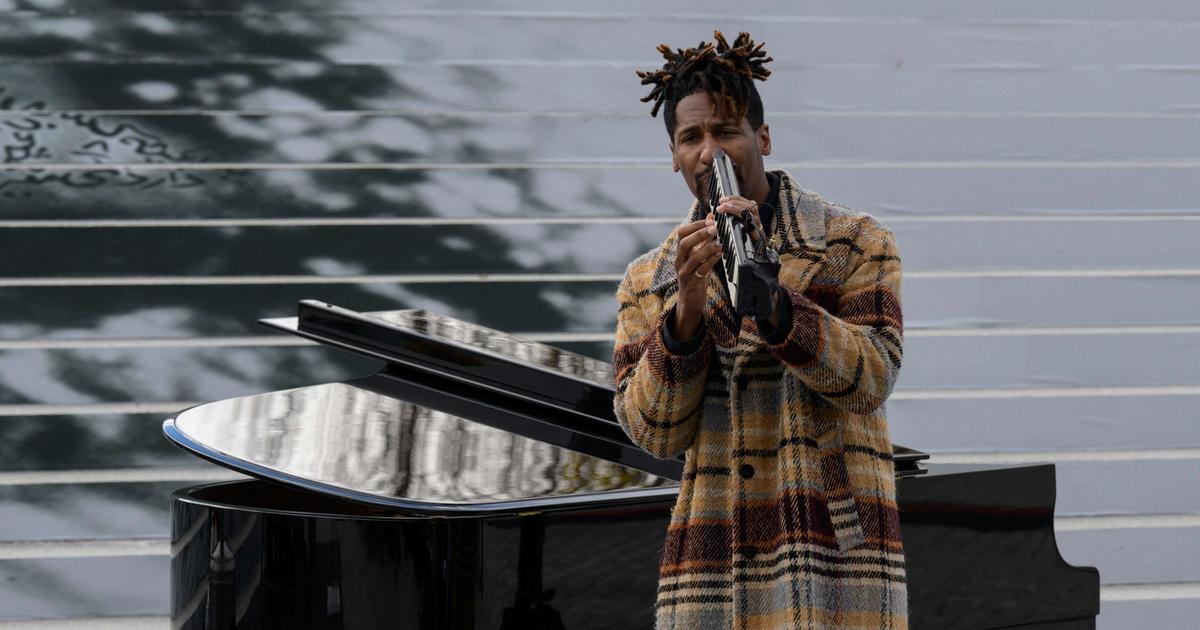 Oscar-winning composer, civil rights activist, this musical genius will host the first state dinner of the Biden-Harris government given in honor of the French president on Thursday.
The charismatic jazzman Jon Batiste will host the State dinner given at the White House on Thursday by Joe Biden in honor of French President Emmanuel Macron.
Virtuoso pianist but also multi-instrumentalist, civil rights activist, Oscar-winning composer, this musical genius is only 36 years old but has already recorded with the biggest stars of American song, from Stevie Wonder to Prince, passing by country legend Willie Nelson.
This is "an artist who transcends generations, Jon Batiste's music inspires and brings people togethercommented Vanessa Valdivia, spokesperson for First Lady Jill Biden. "We are delighted that he is performing at the Maison-
Blanche for the Biden-Harris government's first state dinner", she continued.
Read alsoMacron-Biden: a second visit in a context very different from that of 2018
Navigating between pop and soul, Jon Batiste comes from a family of musicians from New Orleans, a once French city in Louisiana, where Emmanuel Macron will go on Friday for a visit dedicated to the Francophonie.
For many Americans, the jazzman is perhaps best known as the bandleader and musical director of the wildly popular TV show The Late Show with Stephen Colbert. He is also the creative director of the National Jazz Museum in Harlem and in 2021 received an Oscar, a Golden Globe and a Bafta for the soundtrack of Drunk, Pixar animated film, co-written with Trent Reznor and Atticus Ross. This discreet artist won five awards in April during the 64e edition of the Grammy Awards in Las Vegas, in particular that of the best album.
Social justice
Born on November 11, 1986 in Louisiana, Jon Batiste began to practice music as a family from childhood, first drums and percussion. He quickly favored the piano, releasing his first album in 2005, Times in New Orleans when he was not yet twenty years old. Classmate of trombonist Troy Andrews (who has performed with Lenny Kravitz and Nekfeu among others), Jon Batiste graduated from a famous New Orleans art school in 2004, before joining the prestigious Juilliard Academy in New York. He has become one of the big names in the current jazz scene, taking part in numerous projects and performing all over the world. He then formed the group Stay Human. "I wanted to mix the heritage of my father – my first mentor – and that of the city of New Orleans, in order to present a total show", he specified at the Figaro, in 2021.
Read alsoJon Batiste, a superlative musician
In 2015, with its Stay Human orchestra, it became an unmissable event in the Late Show by Stephen Colbert, exposing his talent every evening to millions of viewers. More recently, Jon Batiste has also distinguished himself as an ardent activist for social justice and against racial discrimination, particularly during the demonstrations provoked by the murder of george floydblack man suffocated by a white policeman in the spring of 2020. In March 2021, he released his eighth studio album We Are which addresses the themes of hope and solidarity. The artist described his album, a fusion of jazz, soul, hip-hop and R&B, as "highlight of (his) life at this point".
---
SEE ALSO – Americans 'welcome' President Macron to Washington