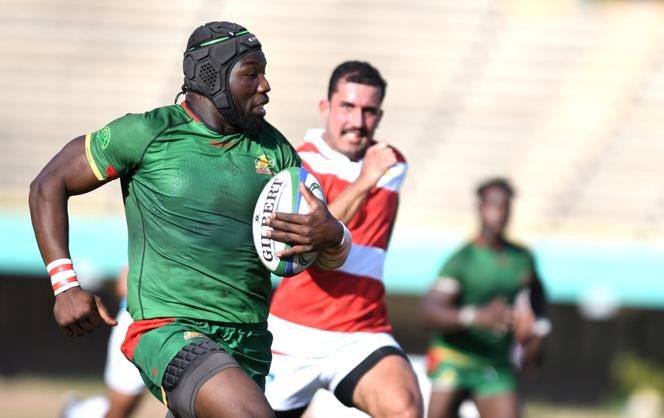 We may have to wait four more years for the African continent to be represented in the final phase of the Rugby World Cup other than by the inseparable duo of South Africa and Namibia. Since 1999, the South African Springboks – who, like the best international teams, do not have to go through the qualifying phase – and the Namibian Welwitschias – who are subject to it – have not. missed just one.
An ocean separates South Africa, second in the world rankings behind Ireland and which has already won the tournament three times (1995, 2007 and 2019), from the other selections of a continent where the practice and interest in rugby are progressing. "We can't compare. South Africa has one of the best championships in the world, very structured, with significant financial resources, and a majority of the players who compete in the World Cup play there. Other countries, except Namibia [21e au clast mondial], are very far from it. The championships are almost all amateur"explains former Algerian international Azzouz Aïb, today president of Rugby Africa, the ociation which brings together the continental federations.
Even if football remains – by far – the king sport in Africa, rugby is increasingly finding its place there, particularly in lands where its practice was still confidential a few years ago. "Rugby culture was found especially in southern Africa. It is not surprising that South Africa, but also Namibia or Zimbabwe [lequel a participé aux Coupes du monde 1987 et 1991] have a certain lead. I think that the results of the Springboks at world level are a reference for Africans who love rugby, especially since there are several black players in this selection: they identify a little more with this team. continues Azzouz Aïb.
"We need visibility"
Kenya, which failed in the last qualifying match for the World Cup against Namibia, but also Algeria, Senegal and Ivory Coast – the only French-speaking team to have participated in the competition, in 1995 – have shown significant progress in recent years. But these selections are overwhelmingly made up of binational players – apart from Kenya, which relies on a local base. "I have a few locals in my team, but 90% of them are boys who play in France, notes Edgard Babou, the coach of the Ivorian Elephants. The problem in Africa is not human potential. What is missing are structures, equipment and regular continental competitions. »
Thus, the Rugby Africa Cup, a competition created in 2000 and in which South Africa does not participate, is not played on a regular basis. It was canceled in 2019 and 2022, and the 2021-2022 edition, in which 20 selections took part, saw its final phase take place in… Aix-en-Provence and serve as a qualifying tournament for the World Cup. To date, the African federations do not know whether its 19e edition will take place in 2024.
"We need visibility, believes Edgard Babou. The African teams need to play more often, competitions should be organized between them, by zones for example, even if we are aware that this requires resources. The federations are not rich and the cost of traveling in Africa is high. But if we want to continue to attract practitioners, and incidentally sponsors, it is necessary to allow the selections to be active regularly. »