"Why I decided to reveal my cancer"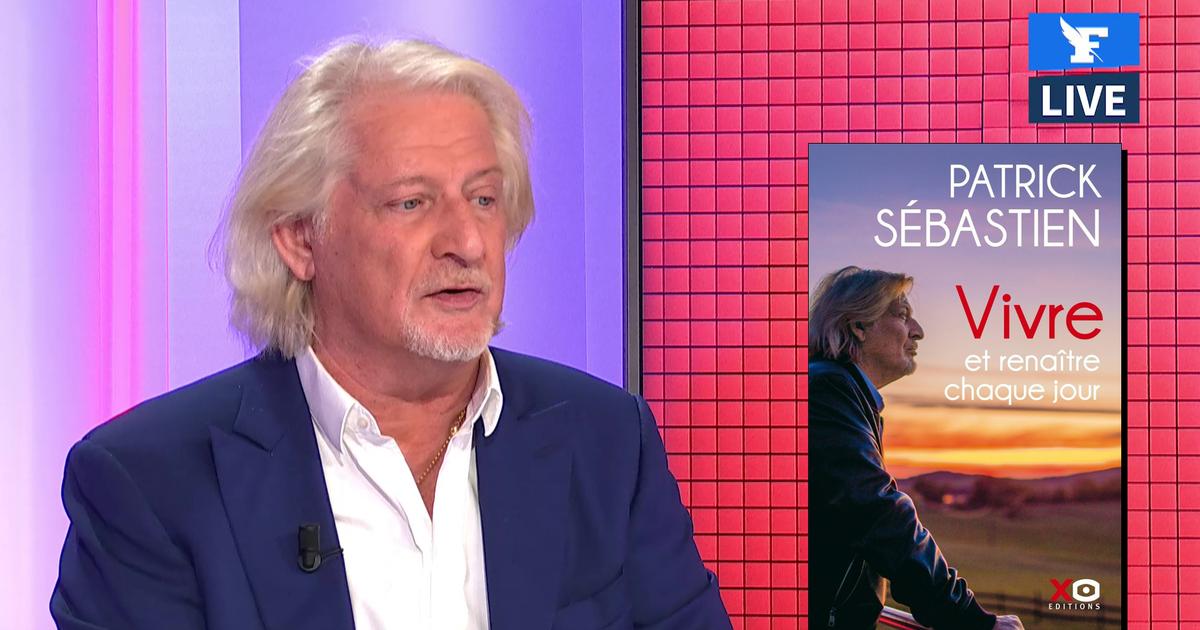 MAINTENANCE - The former animator of the "Greatest Cabaret in the world" is releasing a book, Live and be reborn every day, in which he recounts having been operated on for kidney cancer earlier this year. On the set of "Buzz TV", he also talks about his successful separation from his wife Nana.
TV MAGAZINE.- Live and be reborn every day (XO editions), this is the book you are publishing on Thursday, September 29. Why this title?
Patrick SEBASTIEN. - All the books where I told myself, I wanted them to be useful. I want to share with people who have worries and my methods to stay upright. I'm 68 years old and I just went through a real tsunami. I had a terrible time over it for two years: the disgusting eviction from France Télévisions, major bereavements related to relatives, my separation from Nana and kidney cancer with a major operation. I still have a 40 centimeter scar.
How are you today ?
I'm fine, I'm relaxed. What happened to me is what I call a "luck". It's happened to me twice. These are cancers discovered by chance. It happened last January. I did a follow-up ultrasound to see if everything was okay. My doctor Georges saw a small white spot so he had me do an MRI and a biopsy. He eventually discovered cancer. Even though it was 3 centimeters, it was non-invasive and did not require chemo. So I underwent an operation with eight hours of anesthesia. Rehabilitation and recovery were complicated. But two months later, I was on stage. It's part of life. The word cancer does not scare me. Simply, I did not want to publicize it.
Why ?
It is interesting to mediate when he is cured. Self-pity is the worst way to achieve rebirth. I often think of this sentence that my mother said to me when my son died: "It's not the end of something, it's the start of something else". We are not reborn, neither in resentment nor in bitterness. I am in permanent benevolence. And I threw myself into a lot of projects. The important thing is to do and to stay upright. And if it can help some people to hold on a little better... I meet lots of people who live better thanks to my books. It is a real satisfaction.
Read alsoMichel Cymes confides in his next book to have cured cancer
In the book, you correlate your cancer with your eviction from France Télévisions.
It's not directly related but there is a link between stress and health. After my mother died, I was diagnosed with melanoma. There is also something else that I discuss in the book, it is the vaccine. I'm not a conspirator, but I'm watching. Before the vaccine, I had nothing. And then I ended up with prediabetes, prostatitis. I'm not accusing, but I'm wondering. Around me, it's the same, many people have found themselves with a pathology.
You even spoke about it with Emmanuel Macron who does not agree with you.
Instead of going to yell on trays, I use the relationships I have with Emmanuel Macron. I'm no support - I voted blank to tell you. We've seen each other twice and I have him on the phone from time to time. I try to give him information, questions and he answers me, it's already good. I told him that I didn't want to do the fourth vaccine. For him, there is no link but he hears what I say.
Did you have a fear of death during this period?
When I presented "Through the Looking Glass" where I was doing Frédéric Dard with his son, the latter said something very nice to me: "All my life, I thought you were afraid of death, in fact, it was life that scared you". I think everything is written, that destiny is drawn. If I have to die when I get out of here, that's it. I don't get angry at the inevitable. It helps to live better. I have a culture and a training that would have allowed me to have the esteem of the elites but I would have lost the futility of living, my songs, my bullshit which are essential to my life. Today, I don't drink, I don't take drugs, I don't take tranquilizers and I don't go to see a shrink.
"I could end my life but not in a desperate way"

Patrick Sebastian
There is a recurring character in this book, you call him "the shiny one". It is a weapon that you have in your possession and you have considered using it to end your life. Could you one day take action?
Yes, but not in a desperate way. I'd rather stop myself before they stop me. And especially before the real downfall. I saw my mom, previously a woman of action, who for four years dragged herself from hospital bed to hospital bed. I don't want that. I have long been for the right to euthanasia. In my life, I have had meals with caviar, champagne, I don't want to end up with a rotten madeleine and a spoiled compote! As long as I'm able to get on stage, I'm fine. But if I feel the real physical and mental decline coming, I am able to put one on myself. With smile. For now, I don't have the balls. It is an act of courage and not cowardice contrary to what some say.
Do you miss TV?
No, only manufacturing. Produce "Les Années Bonheur" with artists, for example. But I have compensation on stage. And then I had my time. I'm not going to hang on until my 90 ballets. And I never thought of myself as an animator. I'm an artist. I'm a fan of Blanche Gardin, Jérémy Ferrari, Gaspard Proust and we're not going to put them on prime time. I don't watch much TV anymore except for sports, the Top 14. Canal treats rugby in a wonderful way. I also watch "Secrets of History" and "Questions for a Champion". Apart from that, I deserted because the offer does not suit me.
Read alsoPatrick Sébastien: "Éric Zemmour speaks wonderful truths, but…"
C8 rebroadcasts your shows but could you come back for new ones?
No, because TV has evolved. Unless they give me total freedom, but that doesn't exist anymore. It has to cost as little as possible and bring in as much profit as possible. "Le Grand Échiquier" costs more than my programs and they have 4 times less audience. I'm happy that C8 rebroadcasts my shows. There are things that happen: New Year's Eve and two documentaries that are very nice, one of which is called "Patrick Sébastien, discoverer of talent". On October 28, the first season of the "Plus Grand Cabaret du monde" on stage will be broadcast.
Do you like today's era, that of the controversial little phrase?
I never say "it was better before", I say "it was good before". Taking sentences out of context pisses me off, this systematic buzz that doesn't change much in the end. It can kill. Most people are 10,000 miles away from that. What interests them is their family, their children, the end of the month... What annoys me is the contempt of normal people. I come from the people, and my greatest pride is to have remained faithful to my basic values ​​considered as has been by some. It's true, I am honest and loyal.
"With Nana, we separated amicably, without tearing each other apart"

Patrick Sebastian
And what about politics?
France is angry and we don't have the right representative. On the far left, we have Mélenchon who spits in the face of the cops in an impossible way. On the right, we have Le Pen and Zemmour spitting on immigrants. We keep the hate alive. I want a guy or a woman to come and bring us together. Macron, he is in the middle but it is lukewarm.
You reveal your separation with your wife Nana after 30 years of relationship. You talk about "intelligent separation", what is the secret?
It is an exemplary separation, amicably. We can separate without tearing each other apart. True love is wanting the happiness of the other, even if it is outside of yourself. There are so many dramas after the separations. Nana and I are responsible adults, we have a child. We don't have to hate each other. We do everything for it to go well, we always work together. If I need a favor, she does it for me. And that doesn't prevent our sentimental lives from being separated.
I believe in love that excludes possessiveness. I am libertarian and libertine. I do what I want, I don't belong to anyone and no one belongs to me. It's a starting deal in my relationship. I didn't impose anything on the women who were with me. I arranged for them to exist without me. I have a lot of respect and admiration for Nana. She is a brave woman.
Does the spiritual presence of your mother help you through trials?
Yes and my clown facade is a defense. This is one of the secrets that I reveal the most in this book: my barrier. I don't have time to waste on people who are stupid enough to stop at preconceptions about me and not look behind them. It's stupid to say that but thanks to my troubles, I found this peace.
A bit of levity in this book where you tell about your fine games at Cap d'Agde. "I've always done what I wanted with my sex and my loneliness. I love romantic lovers as much as transvestites in the Bois de Boulogne.you say...
I defend libertinism. In this environment, there are no rich, there are no poor, beautiful, or ugly. There are some ass excesses but you don't have to be there. There is no harassment, no rapes. It is an ideal society. I assume, I have always more or less talked about it. Through this practice, I have met many people who have experienced emotional shocks. The ass is secondary.