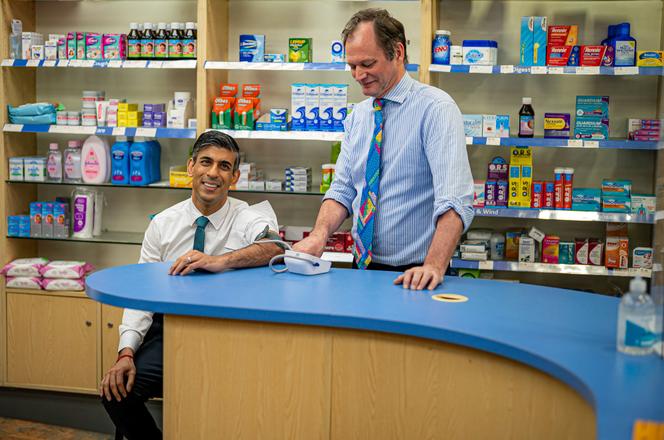 Shelf number 8: "Household products and animal feed". Shelf number 10: "Chips and cookies". And, between the two, in shelf number 9, are "medicines and baby care". In this British hypermarket, in this case of the Asda brand, non-prescription are products like any other. Paracetamol, antiallergics, lozenges against the throat and laxatives are sold between baby bottles and powdered milk.
This open competition, only for non-prescription medicines, is one of the keys to understanding the UK pharmacy sector. This results in particularly low prices for these products. In this hypermarket, Asda own-brand paracetamol is 39 pence (45 cents) for the sixteen tablets, the thirty tablets against hay fever are sold at 2.05 pounds (2.40 euros) and the 36 throat lozenges Strepsils are 6 pounds (7 euros). That is 25% to 50% less than in France, if we compare the prices published on the online pharmacy site Shop-pharmacie.
The other key to how UK pharmacies work, for prescription , comes from a centralized healthcare system. The National Health Service (NHS), which is completely free for patients, bargains very hard on prices for what it is willing to reimburse, making it one of the cheapest in Western countries. .
Functional, no-frills stores
Under these conditions, entering a British pharmacy does not give the impression of entering a semi-luxurious world where parapharmacy reigns supreme. UK pharmacies, like the healthcare system as a whole, are more of a functional, no-frills store. "On average, only 10% of turnover relates to non-prescription . The vast majority, 90%, comes from NHS reimburts"underlines Leyla Hannbeck, the director of the ociation of independent multiple pharmacies (AIMP).
This results in strong pressure on margins, so much so that the sector has inevitably experienced very high concentration for three decades. Today, out of 14,000 pharmacies across the United Kingdom compared to 20,000 in France, around 40% belong to a few large chains: Boots, Superdrug, LloydsPharmacy… In independent pharmacies, many are no longer able to make ends meet. month. From 2015 to 2022, the number of pharmacies fell by 700; in 2023, another 600 are expected to close, according to the AIMP.
You have 17.67% of this article left to read. The following is for subscribers only.