Green valleys, neat cottages hidden by hedges, the profile of a Norman church at the bottom of the valley… The village of Chilham, in the county of Kent, looks like a postcard. It's not for nothing that this south-eastern part of the United Kingdom is called "the garden of England".
Less than an hour by train from the center of London, this chalk-veined land has been home to orchards and sheep meadows since time immemorial. But at the end of August, these are the vines that wine expert Patrick McGrath and farmer Mark Gaskain are inspecting. Plants of pinot noir, pinot meunier and chardonnay, the traditional g varieties for champagne wines, planted on around fifty hectares.
The rows are drawn with a straight line, the vines high and well leafless, to give maximum light to the clusters, whose grains are still green. "We are planning the harvest around October 5 or 6, but September will be crucial: the summer has been gloomy so far, we need sunshine", hopes Patrick McGrath, boss of Hatch Mansfield, a specialist in wine distribution and marketing. It will have been partially heard: September began with a week of historic heatwave in the United Kingdom, a blessing for the vineyard.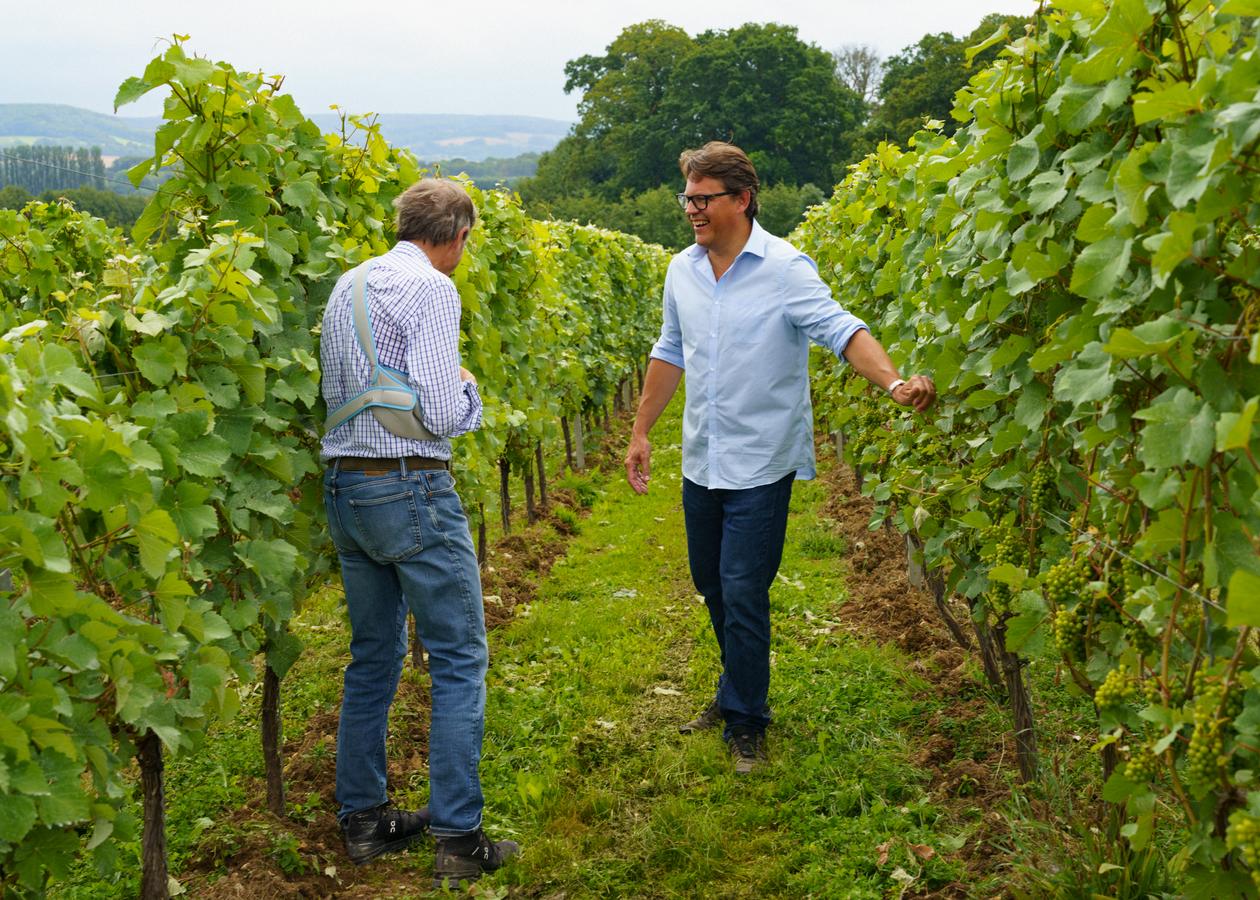 Agent of Taittinger champagnes in the United Kingdom since the end of the 1990s, the expert joined forces with the famous French house from 2015 to buy 80 hectares of land from the Gaskain family, among the main fruit growers in the United Kingdom. . Since 2017, nearly 50 hectares of vines have been planted, on land which had probably not been home to any since the Roman conquest two millennia ago. The vineyard was named Domaine Evremond, in reference to Charles de Saint-Evremond (1614-1703), a French poet and epicurean who is said to have introduced the first Champagne wines to the English court.
The first harvests took place in 2020, but as the Champagne method takes time (three years for fermentation, embly and disgorging), the first bottles will not be marketed until September 2024. "I am sure it will be a very good wine, but we are eagerly awaited by the profession", worry a little Patrick McGrath. In the meantime, part of the wine is stored in large, brand new barrels in an old shed, awaiting their transfer to a new cellar being built on the edge of the estate, with a store and tasting area.
You have 76.55% of this article left to read. The rest is reserved for subscribers.