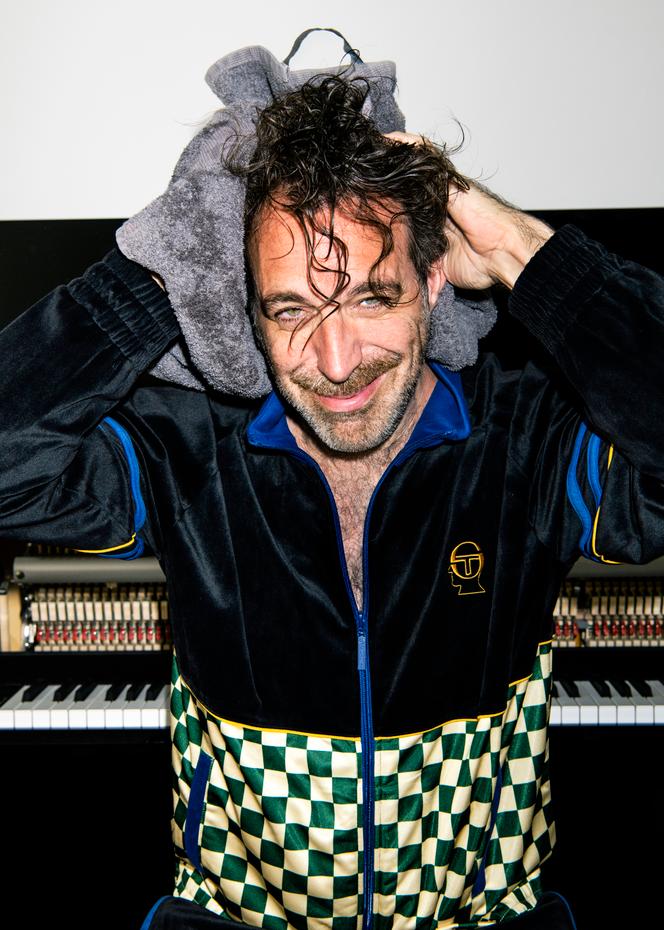 We remember a first meeting, in 2002, where Jason Beck seasoned his English with clumsy French to answer questions asked to Chilly Gonzales, the cabaret rapper that this Canadian pianist, then emigrating to Berlin, had chosen to play, at the dawn of the 2000s. A little more than twenty years later, no more worries with "the language of Voltaire, Flaubert, Baudelaire and Bangalter", that this English speaker says to himself "too proud to speak"in a song, French Kissand a new album of the same name, the first written in French.
This kiss " with the tongue ", Gonzales rolls it up to declare his paradoxical flame to a country where his career as a singer and instrumentalist, but also as an arranger and director (for Jane Birkin, Philippe Katerine, Teki Latex, Arielle Dombasle, Feist, Daft Punk…) , had a series of crushes, breakups and reconciliations. Burlesque, ironic, sincere, childish, this linguistic challenge also draws, implicitly, the portrait of a profound jester.
Born in 1972, this Montrealer grew up speaking English in the Quebec metropolis, even if studies in a French school familiarized him with a language that would continue to intimidate him. "I quickly understood that French speakers had a particular attachment to their language, stronger than English speakers. It is, for them, an instrument, a tool of seduction, which requires a certain virtuosity. »
Unclifiable bulimic
His beginnings as an eccentric rapper were first built in English. He crossed the Atlantic to join the excitement of the Berlin scene, before finally settling in Paris in 2003."uber-entertainer" found himself, at the time, in the fantasy of local underground rap, carried by groups like TTC, whose leader, Teki Latex, became one of his close friends.
The pianist's fascination with the impressionist school (Fauré, Debussy, Ravel, etc.), his melodic heritage marked by the tricolor tradition also opened other doors for him. Notably alongside Renaud Letang, pillar of Studios Ferber (Paris 20e), where the gentleman established himself as one of the leading directors of French pop song. "I mixed his third album, Presidential Suite [2002]without meeting him, Letang recalls. I noticed that his electro-rap was enriched with excellent harmonic arrangements. I was convinced that his talent could adapt to many styles. »
After a first collaboration with Guesch Patti, the Letang-Gonzales duo will prosper serving an impressive variety of artists. "I had the impression of entering the "royal court" of French song, Gonzales says with a laugh today. One foot in the musical elite and one foot outside, like a mad king capable of saying "Who is this homeless person?" when meeting Souchon, whom I did not know. »
You have 58.43% of this article left to read. The rest is reserved for subscribers.