"With gravity but with lightness", Kent releases an intimate record in the form of a balance sheet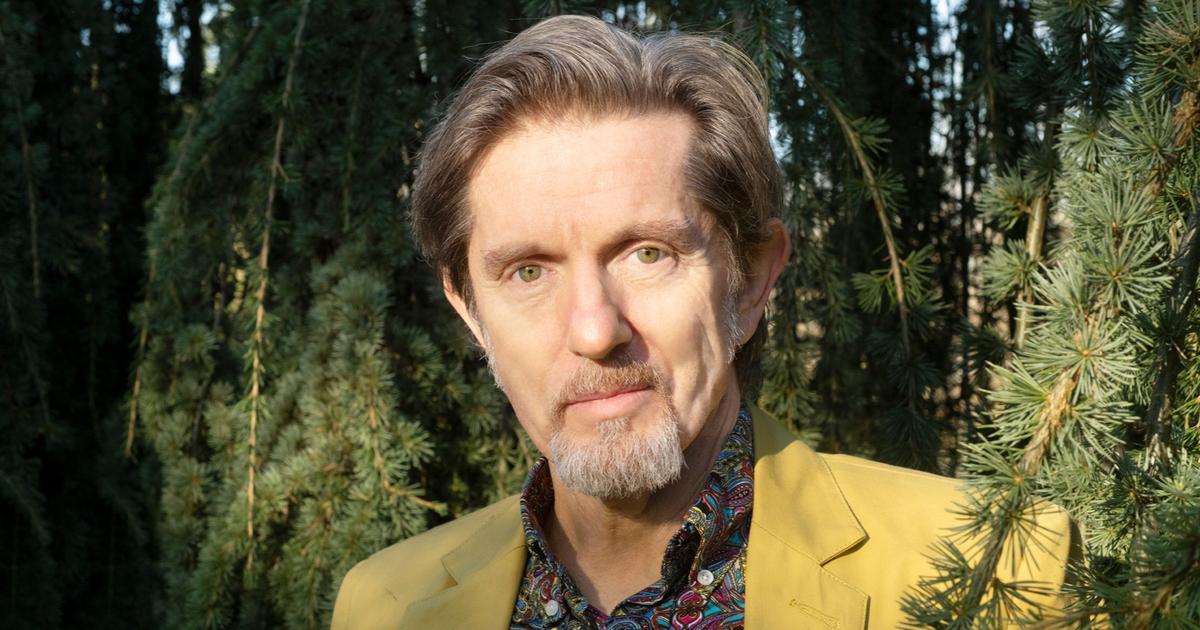 At 65, the singer, an all-round artist, made the genesis of his latest album, Scherzando.
" Last night I dreamed that Get Baquesold for 45,000 euros at Sotheby's! " entrusts Kent during his interview with Le Figaro. In 1978, in the midst of the punk wave, the song Get Baquesecond 45 rpm of Starshooter, signed with an angry pen by Kent, then singer of the group of rockers from Lyon, constitutes a schoolboy and irreverent diversion of the piece Get Back of the Beatles.
EMI, the record company which also distributes the albums of the four boys from Liverpool, hastily withdrew the disc (now collector) from the distribution circuit after barely a week of exploitation. Four decades later, water has flowed under the bridges and Kent, now a recognized figure in French song, feels, at 65, the need to take stock of his career and his life.
Read alsoWasted effortfrom Kent: disillusioned musician and mercenary
"Back then I was a mad young dogJudge Kent. Assagiated, he publishes a 16e album, Scherzando, on the AT(h)OM label. The album of maturity. Scherzandoan Italian word taken from the register of classical music means "With lightness and describes more how the record was conceived than what it is about. By evoking his intimate wounds and his questions, Kent put a good dose of gravity. " During childhood and adolescence, serious things do not last, they sink deeply, we believe that they have passed. It's not true, but we don't know that until later.»
Melodies that hit the mark
The return to its roots (My city), morality (Remorse, regrets), sexuality (In your skin), humanity (hunter-gatherer), passing time (It's too lateby Georges Moustaki), the sense of freedom (your freedom ), intimacy (Already come to your placeby Emmanuel Urbanet), time (The last time), creation (On the blank page), the loss (Will you come back to see me?) the balance sheet of a life, (Scherzando Express ), so many themes approached through chiseled texts, said in a deep and warm voice, on melodies that hit home.
Recorded in a week as a trio in live conditions, with Marc Hausmann (piano), Alice Animal (electric guitar) and himself on acoustic guitar, the production of the album was entrusted, as on the previous one, to David Sztanke (Tahiti Boys & The Palmtree Family).
Today all this computer music is getting me drunk

Kent
" We wanted to make this album with lightness,tells Kent, because the more instruments you add the less you worry about the text, and that's what is a bit embarrassing in the end with pop or rock. Today all this music made by computer makes me drunk. Music within everyone's reach may be the ultimate democratization, but the question remains: what is talent? I still think the primary values ​​are composition, writing and I'm going to stick with that. Me, what I love is singing, accompanied by musicians.»
The song Scherzando Express, which gives the name and the tone of the album lasts 8 minutes. "Eight minutes is the usual length of songs I hated when I was a kid. It's a song that's 20 years old. I started playing it on stage, but I didn't record it, I wasn't satisfied. At the time I said to myself, you are too young to sing that. I had written it some time after my son was born, as if I was telling him something. It stayed in the fridge, until the album. "An album that almost did not exist. " After The Great Illusion, my last studio album in 2016, I had decided to devote myself to things other than song. I thought I had nothing more to prove, that I had to stop before I got bored or bored… and then I had new projects. »
Novelist and comic book author
In 2019, the hyperactive artist, has just published in quick succession a 9e Brilliant and very well put together novel, Wasted effort (Le Dilettante), then reconnected with his first love, comics, with Shadows and Lights (Delcourt), an album on the life of Elvis, co-signed by journalist Patrick Mahé, a big fan of the King.
As Kent feels the need to take a break, the Covid epidemic arrives and everything stops. " I who wanted to take a sabbatical year, I was served. But over successive confinements, I found myself going around in circles. I was still holding myself back from picking up my guitar. The problem, even when I don't do anything, that I don't want to do anything, I still think in song. I see, I live things, and the first things that come to mind are verses, melodies, it's stronger than me. Finally in the third confinement, to fight against this feeling of inaction without freedom, I said to myself, basta, it's good, let yourself go! Consciously, I didn't want to, but it's as if my subconscious was ordering me to get back to it. What's funny is that I was writing songs or I was finishing them, because I always have songs lying around, and which at that time found a spark. I modeled them, put them in my computer and that was enough for me. They existed.»
In the end, it was the label that offered to make the record. " The musicians I like to work with were available, I said OK. The album is also the occasion of a beautiful and happy meeting with the singer Alice Animal, her undeniable double in the feminine, who intervenes on the choirs and imposes herself masterfully in duo.
Scherzando,in stores since September 16. Kent in concert at dance cafe (Passage Louis-Philippe, Paris 11th) on October 7.