With "House", Amos Gitaï shows himself, in the theater, more fatalistic than combative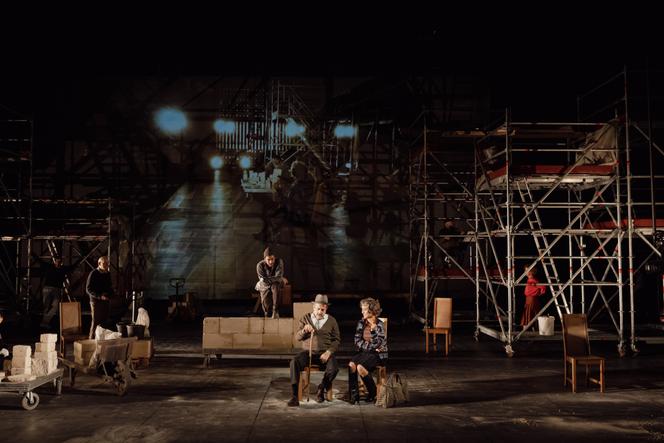 The main character of the show proposed at the Théâtre national de la Colline by Amos Gitaï, Israeli filmmaker and director of international renown, gives his title to the performance: House. It is indeed a House. It is located on Dor-Dor-veDorshav Street in West Jerusalem. On stage, it is materialized by huge metal scaffolding whose blocks move, rearranging the space around two actors who play Arab workers. Kneeling on the ground, one cuts the stone, the other cements a low wall.
Coming and going from the wings, other actors (including Irène Jacob and Micha Lescot) circulate between the steel buildings erected high towards the hangers. In turn, they relate a link with the villa. Languages ​​fuse: English, Arabic, French, Hebrew and Yiddish. The actors address the audience, but they don't talk to each other. They exist in parallel, each riveted to his memory, his doubts or his certainties, his anger or his resignation.
Against the background of the Israeli-Palestinian conflict, of which House is the metaphorical crucible, the performers do not dialogue: there are few points of convergence between them. The program may well announce the desire to say "the possibility of reconciliation", Amos Gitai's gesture ratifies the opposite: this community does not form a fraternity. It is the reflection of an unsurpassable political reality and an insoluble human drama. Two impasses summed up by a phrase that passes and marks: "I was for coexistence between Arabs and Jews, but honestly, I don't see any way to achieve this coexistence. »
Unimaginative steering
The one who speaks thus embodies an old Arab doctor, heir to the Dajani family, which was driven out of the house in 1948, at the very beginning of the struggles for the conquest of the territories. The place, abandoned under duress, will not remain vacant. The new occupants rebuild on the ruins. They build floors. Create balconies. Share the rooms. They are Jews. A couple emigrated from Sweden in the 1970s, just after the Yom Kippur War. A designer came from Belgium.
No dynamic engages between the actors, who monologue and assume the artificiality of compositional roles
Amos Gitaï has filmed the future of the residence three times. With good reason: she is an eloquent emblem of the tears in her country. A first documentary (immediately banned in Israel) dates from 1980, the second is from 1997, the last from 2005. In this striking trilogy, and taken up at the Center Pompidou as well as at the MK2 Beaubourg in Paris today, testimonies abound. There are those of neighbors, Palestinian workers, expropriated Arabs, Jews who live there, an architect, or even an archaeologist.
You have 43.68% of this article left to read. The following is for subscribers only.