With "Ideal standard", Laurent Faulon exposes his broken supermarket in Vélizy-Villacoublay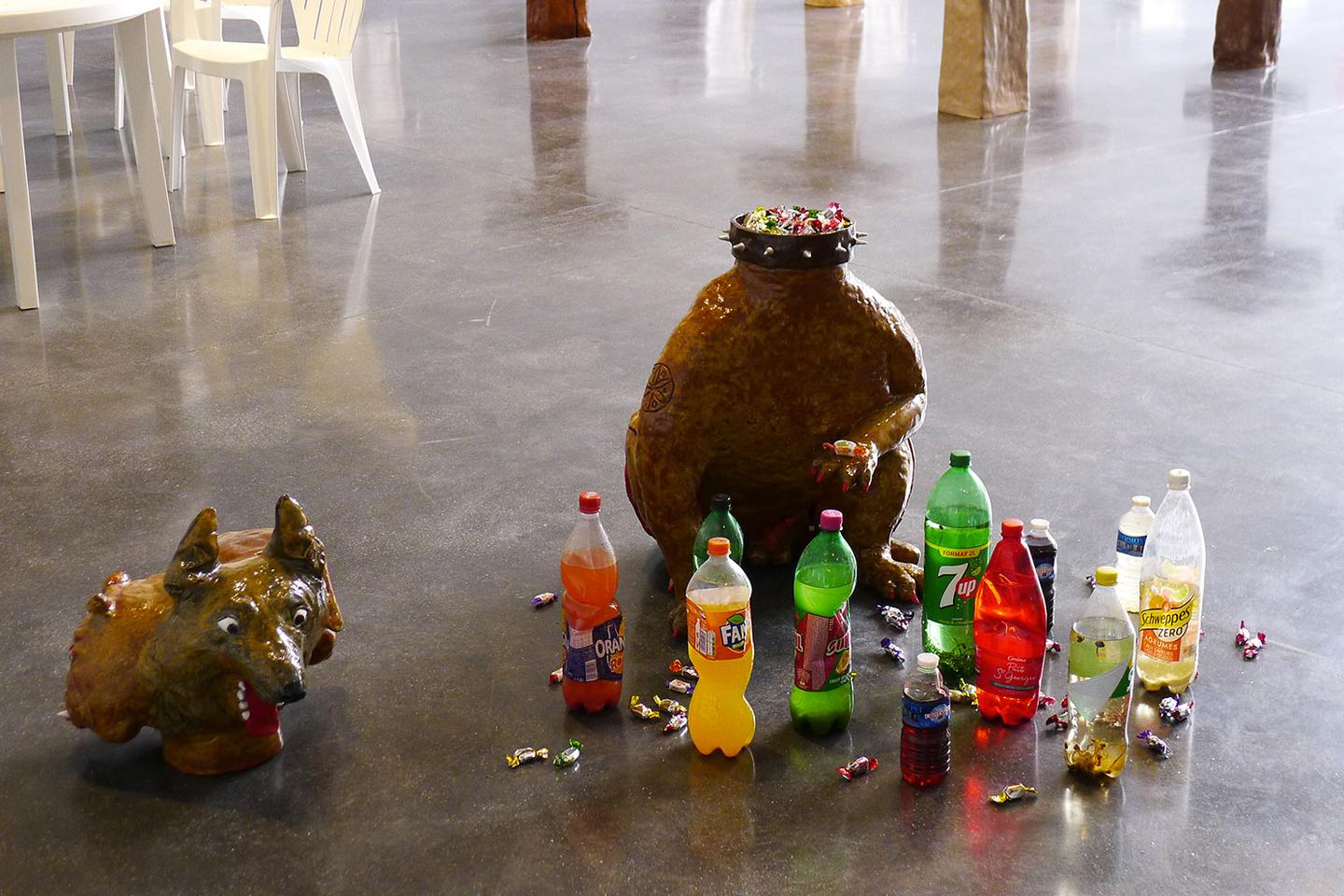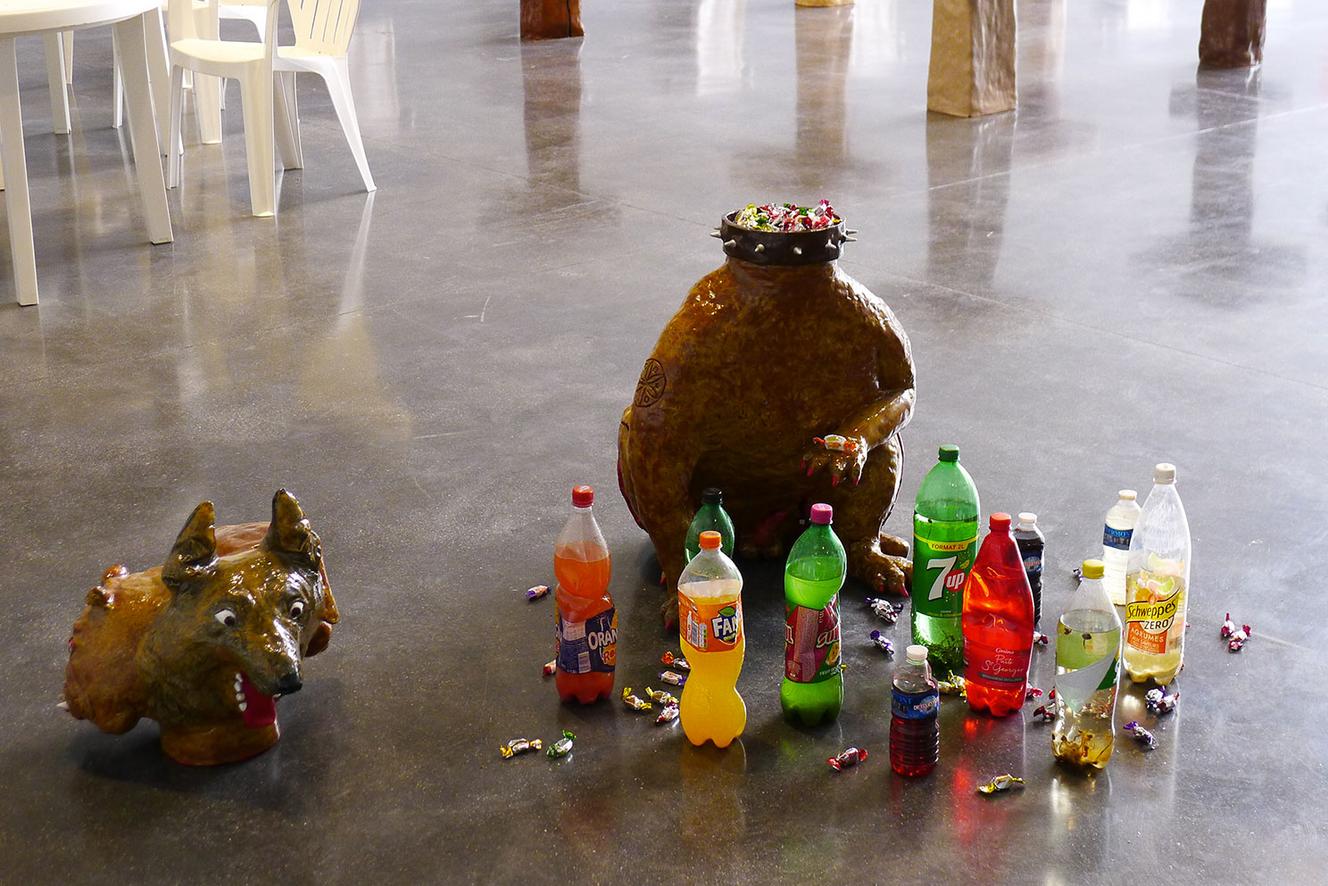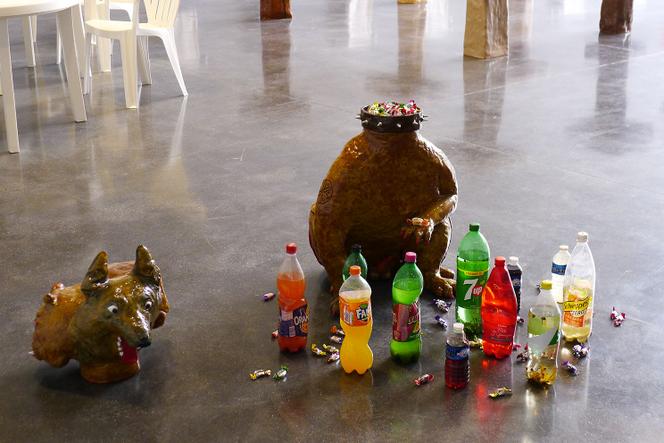 A ceramic Cerberus watches over the threshold of Laurent Faulon's exhibition at l'Onde, an art center in Vélizy-Villacoublay (Yvelines). Breaking with the minimal and gray lines of the place, the three heads of the beast have been guillotined: they are placed on the ground, next to its hound body. Three dog's heads, three brothers at the gates of hell, the sculpture is called Three Bro (to brothersbrothers). "The smallest, the nicest, a Labrador; then the big one, a wolf-dog; and me in the middle, as a bulldog. He looks grumpy like that, but he's not mean."describes the artist with a half-hearted smile.
Tattooed on the throat of his canine avatar, a rosette from Valais, an allusion to the Switzerland where he lives today, and the signature silhouette of the punk band Einstürzende Neubauten, "discovered at [ses] 10 years ". It was Claude Lévêque who introduced him to it. In January 2021, The world revealed the complaint filed by Laurent Faulon, eighteen months earlier, against the famous visual artist for rape and sexual assault on a minor under the age of 15. The facts date back to his adolescence, more than thirty years ago. Almost four years after it was filed, the file is still not closed.
But Laurent Faulon is finally exhibiting again. L'Onde offers him his first major exhibition, since the revelations. The beginning of a repair, no doubt. However, there is no question of taking our emotion hostage to make its catharsis. He simply continues to dig the furrow of an uncompromising work, which upsets the social order and takes us into its upheavals. At the foot of the Cerberus, bottles of soda as offerings; in the cup of his severed neck, sweets.
Three brothers
"This ceramic is inspired by a Thai ritual, that of Kuman Thong ("golden boy"), intended to protect against stillbirths and, by extension, to bring happiness, he explains. The fetuses were covered in red lacquer and gold leaf, until the practice was banned and they were replaced with plastic idols. We offer them what we would offer a child. Anyway, I did my Kuman Thong. But, instead of a child, I placed this Cerberus. »
The title, Three Broalso refers to a rap album by the group PNL that he adores, Two brothers. "PNL often generates rumors, one of which says that they are not two brothers, but three. » They were three, in the Faulon family. " The kindest ", Rémi, committed suicide. Years before, in 1982, Claude Lévêque had covered with gold the photo of his face in his installation Grand Hotel, composed of many photos of teenagers. "My work is both an altar and a funerary urn"soberly punctuates Laurent Faulon.
You have 47.81% of this article left to read. The following is for subscribers only.