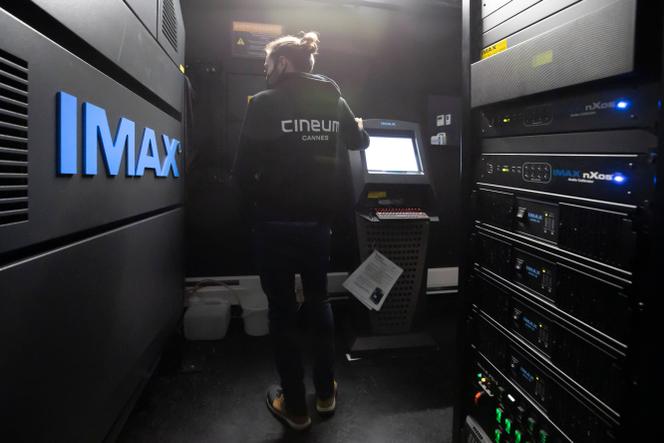 There are major technological revolutions that we hear little about. This is the case with the advent, in cinemas, of laser projectors, which are preparing to dethrone xenon lamp projectors, which will soon be at the end of their life. This will be one of the key subjects of the 78e congress of the National Federation of French Cinemas (FNCF), which is held in Deauville (Calvados), from September 18 to 21. Although it costs more – between 50,000 and 100,000 euros, depending on the size of the room – the laser projector offers more beautiful, more stable, more precise, ultra-clear and high-contrast images, without degrading over time. over time.
The light source lasts 20,000 hours, or almost ten years, while xenon lamps must be changed every three years. Another advantage is the low operating cost of the device, which consumes much less energy than a traditional lamp video projector. Plus, it doesn't heat up like a light bulb, so requires very little air conditioning or ventilation.
"We would save 40,000 megawatt hours per year if all cinemas in France switched to laser projectors, which represents the annual consumption of a town of 20,000 inhabitants", explains Erwan Escoubet, director of regulatory and institutional affairs at the FNCF. A boon for the three historic manufacturers on the market, Barco, Christie and NEC. They should ultimately replace the projectors of the 2,028 cinemas and multiplexes in France (i.e. 6,200 screens) and the 100,000 cinema establishments on the planet. Changing everything would cost, in France alone, some 400 million euros. This is exactly the investment made to make the transition from film to all-digital in the 2010s.
"Essential investments"
First in this conversion, the Pathé group – the leading circuit in France – has already installed, since 2016, around 350 laser projectors on the 1,278 screens it owns in France and abroad, says Aurélien Bosc, president of Pathé Cinémas. To his eyes, "it's a reliable and qualitative technology"Who "consumes 50% less than a xenon projector and eliminates the need for a heat extractor". Pathé has opted for new laser projectors for all its very large screen rooms, more than 12 meters wide. "This technology is ideal for films broadcast in 3D. But the whole chain must follow if we improve the quality of the projector, and it is necessary that those of the screen and sound are also optimized., he explains. Pathé still has to equip more than 900 rooms. For Aurélien Bosc, it is "essential investments for the profession, but which can collide with other priorities".
You have 73.2% of this article left to read. The rest is reserved for subscribers.