"With Laurent Ruquier, we ignore each other with delight"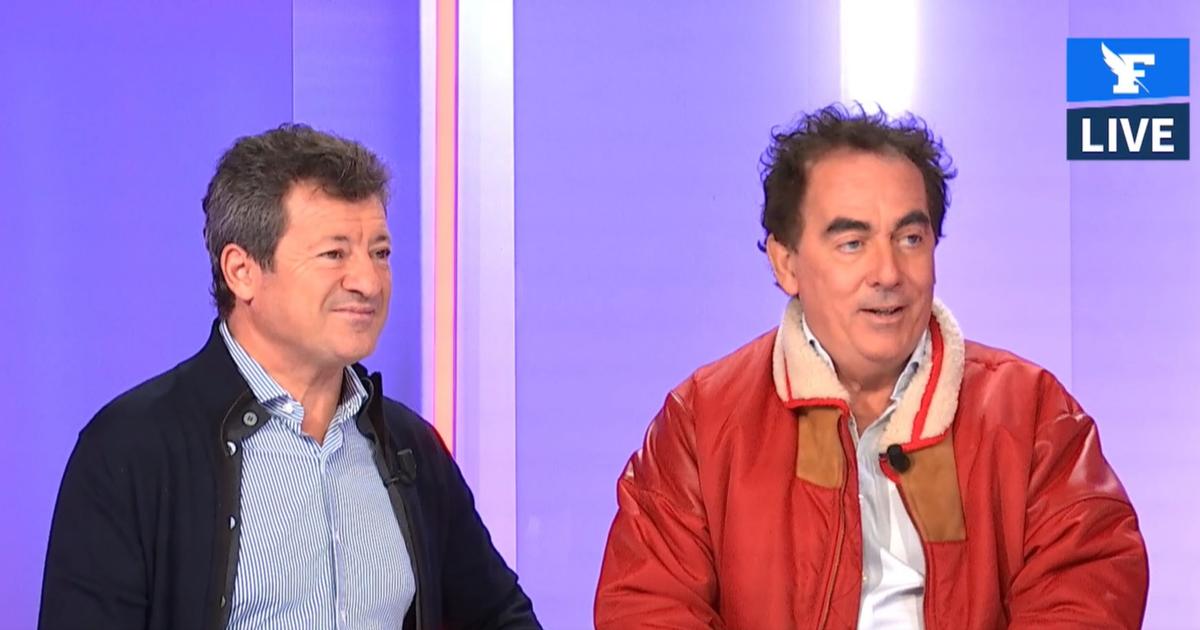 FIGARO LIVE – Francis Ginibre and Éric Carrière make fun of the year that has just passed in The Knights of Blight dynamite 2022, this Wednesday, December 21 at 9:20 p.m. on C8. Guests of "Buzz TV", they talk about their relationship with the host of "Big Heads" on RTL.
TV MAGAZINE. – The war in Ukraine, runaway inflation, petrol shortages, fires, the death of the Queen of England: how can we laugh at a year that has been anything but funny?
Eric CAREER. – Every year, we say that the last twelve months have been incredible. Merchants always lose 30% of turnover. Moreover, if you add up all the years during which they have shown this decline, they are at minus 200%! The crisis at the hospital and the civil servants who are not holding up are also recurring problems. We are not intended to be a newspaper and deal with all subjects. If we forget some, it doesn't matter, people don't hold it against us.
Read alsoLes Chevaliers du Fiel: "Delfraissy hasn't gone to a club for 42 years!"
Would you say this show will be more explosive than ever, or have you limited the explosive charge?
Francis GINIBRE. – The sketches can be corrosive but it's often very offbeat too!
E.C. – When there was the Russian invasion in Ukraine, we were told that we could no longer buy pasta because the wheat is harvested there. It has become a perfect reason that justifies anything and everything. I imagined that we parked in front of the gate of a guy who calls out to the driver: "Wait, with what is happening in Ukraine, you will not annoy me". Moreover, in the news channels, where there are debates from morning to evening, those who were specialists in Covid-19 are now experts in Ukraine. The guys know all the subjects and know what to do, even if they have never succeeded for the most part!
"Vincent Bolloré watched our shows on television"

Éric Carrière, guest of "Buzz TV"
The previous edition of this show attracted 826,000 viewers, or 4.5% audience share. You often cross the million viewers mark. When you are below, are you disappointed?
FG- We are spoiled children because we had great audiences. We even came close to two million French people with Hell's Christmas. So inevitably, when we are below this threshold, we are disappointed. But what matters is the satisfaction of the channel.
E.C. – If it's a triumph, we're called! One day I was on vacation riding my bike and I see a hidden number showing up. My phone rings again, I end up stopping to answer and it was Maxime Saada, the chairman of the management board of the Canal+ group. Vincent Bolloré also watched our shows on television and he is fully aware of our audiences.
Read alsoThe year 2019 seen by the Knights of Fiel on C8
From next January 10, you will be on the stage of the Folies Bergères with your show Hell works. You who were snubbed at your beginnings by the Parisian intelligentsia, do you feel a difference compared to the rest of the country when you play in the capital?
E.C. – Since we filled the Théâtre des Variétés for five months under the noses of the entire profession, we have become picturesque. For them, it is digestible! We piss them off so much…
FG- Attitudes have changed because, for a very long time, they knew that we had success in the provinces but they couldn't realize that we could have any in Paris. After having also filled fourteen Palais des Sports, no one says anything anymore…
E.C. – Apart from Laurent Ruquier!
What is the nature of the dispute with this facilitator?
E.C. – We ignore each other with relish. Being invited to a wooden armchair at 11 o'clock in the evening, criticized by Zemmour, who almost became a politician, and other losers, like Naulleau, who almost became a writer and Ruquier who almost became an author… I had indicated that I would have agreed to come if the program had been filmed live because they could not have held us.
"I would be ready to bury the hatchet"

Éric Carrière, guest of "Buzz TV"
Why are you no longer part of the "Big Heads"?
E.C. – We were there when it was animated by someone who had ideas… I would be ready to bury the hatchet but we don't live on the same planet.
Hell worksis a work born in 2021 at the Festival d'Avignon. This time, Mr. and Mrs. Lambert are embarking on the renovation. How will this DIY session go?
E.C. – At the start of the show, the entire accommodation is renovated. There is only one bulb left to screw. As soon as Francis installs it, disasters begin… We will play a postman from the CGT, a perverse priest and many other characters.
FG- At the start of this show, I was hooked for a long time! The advantage of being an actor is that you can afford to do things that you would not allow yourself in life. Eric wanted me to hang from a chandelier but I refused! All roles are fun to play. Afterwards, certain characters come back more often, like the priest and the stutterer.
Read alsoThe Knights of the Fiel: "We love France too much to live elsewhere"
What is your worst career memory?
E.C. – We were humiliated at first… One day, we were forgotten under a table in "Télématin"! We played the whole program there and, at the end, just before the credits, we were supposed to appear. Eventually, the presenter at the time concluded the show and everyone left. Moments later, I asked if anyone was around. There was no one! And then, another day, while we were having a hard time in Paris, we learned that the 1 p.m. of TF1 took us because they fell for the show. They come on Saturdays, we do the reporting and we know that our life is going to change. During the night, the Israeli Prime Minister is shot down. The subject is therefore not broadcast. We say to ourselves that they will pass it on Monday and finally they threw it away. A double sadness…