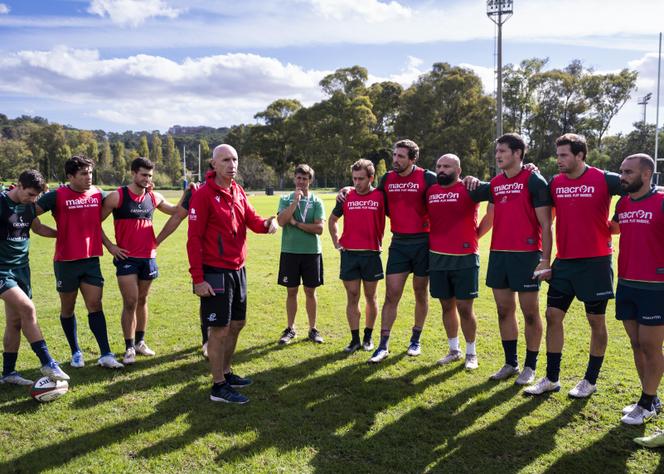 Portugal was the last of the twenty nations participating in the Rugby World Cup to validate their ticket for France. To achieve this, his journey was not a walk in the park: it took a penalty from Samuel Marquez, the scrum half of Carconne, in the last minute of the last match of the qualifying tournament in Dubai, on November 18, against the United States, to snatch a decisive draw (16-16). Thanks to a better points difference, Os Lobos (Wolves) qualified for the World Cup, a performance they had previously only achieved once, in 2007.
A consecration for the men of former French international Patrice Lagisquet, called to the side of the selection in 2019. During the qualifying phase, Portugal obtained victories against Spain, the Netherlands and Russia, as well as a defeat with bonus point against Romania. The Lusitanian selection then qualified, in Dubai, by beating Hong Kong (42-14), Kenya (85-0), and therefore snatching a draw against the United States.
Placed in Pool C, the Lobos face Wales in Nice on Saturday, September 16, for their first match of the competition (5:45 p.m., on M6). They will then meet Australia, Fiji and Georgia. A tough program for a team which has never won the slightest victory in the World Cup.
"We're not in a position to say we're going to win a game. The most important thing is that we give ourselves the means to get closer to the best within three to five years"explains Patrice Lagisquet. "We are at the level of Georgia, which serves as a benchmark for us, but we lack benchmarks compared to the best nations in the world. This is our main weakness"adds the Basque.
A country with fewer than 10,000 licensees
Nicknamed "the TGV" for his speed, Lagisquet played in two World Cups as a player with the French team. He was in the final lost in Auckland against New Zealand during the first World Cup (1987), and he obtained the last of his 46 caps in Blue in the quarter-finals against England during the 1991 edition. Having become coach of Olympic Biarritz, he then won three Brennus Shields (2002, 2005 and 2006), without forgetting a European Cup final (2006) and a victory in the European Challenge (2012).
France's failure at the 2015 World Cup, in which he participated as co-coach of the Blues alongside Philippe Saint-André, had a profound impact on him. The sinking of the Tricolores in the quarter-finals against the Blacks (13-62) remains their biggest blow in this competition to date. Still open, the scar prompted Patrice Lagisquet to stay away from rugby for several years.
You have 55.35% of this article left to read. The rest is reserved for subscribers.