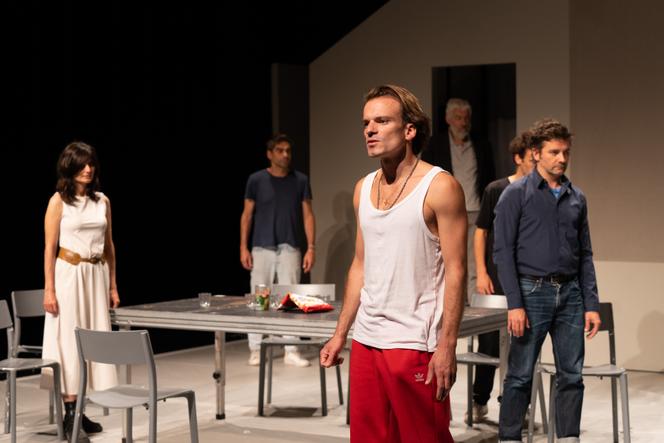 Even when plowing similar furrows, great authors do not plagiarize themselves. They p the relay of a word which requires to be reworked, again and again, so that the scene never dries up, for lack of a language which would no longer provoke and energize it. Between Laurent Mauvignier and Jean-Luc Lagarce (1957-1995), the fight for a living, active and epidermal theater is a link that goes beyond generations. More than one point in common connects these two writing stylists. Relatives, written and directed by the novelist from Editions de Minuit, borrows from his elder brother (published by Solitaires intempestifs) one of his favorite motifs, the return of an absent son to his family, as well as a sense of dizzying repetition. But while Lagarce deployed his sentences in long, loose los, Mauvignier organized a series of explosive tsunamis.
It starts very strongly in the small room of the Théâtre de la Colline, with a prolonged face-to-face between the spectators and a group of six actors holding a banner in front of them: " Welcome to Yoann ». Parents, daughters, sons-in-law, all are waiting for Yoann. This handsome, rebellious kid in a white tank top and red jogging bottoms has spent four years in prison, played by Maxime Le Gac-Olanié, a dry and dull actor, reminiscent (a little) of Guillaume Depardieu. Its role is carved out of the memory of iconic figures: like the visitor to the Theorem (1968), by Pasolini, he is the one everyone desires. Like Beckett's Godot, he is the one who will not come. Like the Announcer of Satin Shoe, by Claudel, he whistles the start of a game of which he seems to be the only one to know the outcome. He enters, observes and prophesies: "Here, everything tells us something, and I'm coming. »
Elaboration of chaos
In a gray, impersonal and removable decor (a house facade, a sofa, a kitchen bar, a living room table) – a sort of cold witness pavilion, whose sole function is to accommodate the utterance of the text –, a family experiences " tell all ". This revelation will be fatal to him. From scenes of couples in sororal spats, from eruptive truths to late revelations, from cries to sighs, the clan crumbles and, with it, this love that we believe to be unconditional between parents and their children.
The drama is based on almost nothings that Laurent Mauvignier orchestrates with astonishing virtuosity. To each sequence of play, he adds a grain of sand (a reproach, a confession, a guilt, a lie, a misdeed) until he forms a rickety building doomed to collapse. So much systematism in the creation of chaos sows doubt about its true intentions. What if he only used his fictional alibi (the dismantling of a family) to deal with another subject: writing and its possible uses on the theater stage?
You have 39.96% of this article left to read. The rest is reserved for subscribers.