"The million, the million!" L'real estate experienced four years of euphoria with sales exceeding the million mark each month. A peak of more than 1.2 million transactions was even reached in August 2021 (cumulative over 12 months) (see below). And since then, the sales curve has plummeted. At the end of the year, it will drop below the million mark: between 920,000 and 930,000 transactions are expected for December 2023, announced at the Figaro the National Real Estate Federation (Fnaim). That is a drop of 17% compared to December 2022. "This is the largest one-year drop in volumes since the end of World War II.underlines Loïc Cantin, president of the Fnaim. Some agencies saw their sales drop by 40% between the third quarters of 2022 and 2023.»
Although this level of sales remains high compared to pre-Covid years, the drop is impressive. But according to some observers, it could and even should be much stronger. "How is it possible that sales only drop by 15 to 20% while credit production plummets by 50%?asks Henry Buzy-Cazaux, real estate expert for more than 30 years. The profession (real estate agents) has problems with the truth of the numbers.» «Many homeowners, especially second-time buyer grandpa boomers, buy cash", retorts Loïc Cantin who fears a"impoverishment of the first accession".
Beyond this battle of figures, everyone agrees that housing is in crisis. Former Housing Minister Olivier Klein had no hesitation in resuming the expression of "social bombemployed by economist Robin Rivaton. A formula that his successor Patrice Vergriete did not want to use, preferring more clic words like "fears" And "worries". However, this brutal crisis has done damage on the employment side. At the end of July, 637 failures of real estate agencies were recorded in France (out of a total of 42,000 agencies) of which 498 were placed in compulsory liquidation, according to the firm Altares (see below). Unheard of since December 2015! A year ago, these defects were half as numerous.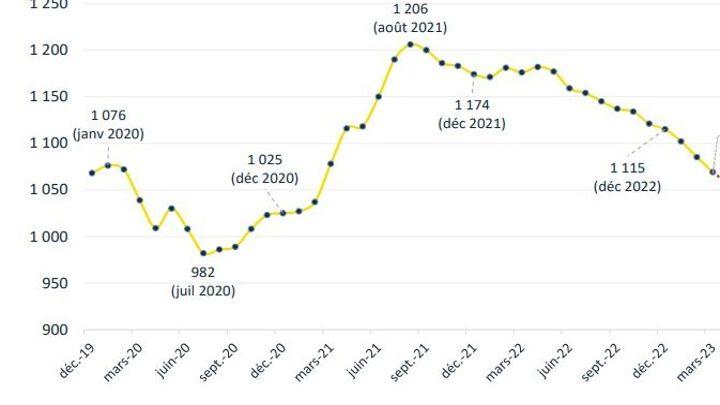 A spike in failures since 2015
Among these 637 failing agencies, 520 have less than 3 employees and most were created during the Covid crisis, surfing on the dynamic linked to the desires of the French to go green. "You don't improvise yourself as an entrepreneur, even less so in this sector which is highly concentrated in small businesses and where the scissor effect is even more terrible than elsewhere.. Revenues plummeted and expenses soared very quickly", analyzes Thierry Millon, director of studies at Altares, who predicts that the peak of the 2009 financial crisis could be reached in the first half of 2024. At the time, nearly 1,400 failures of real estate agencies had been observed.
The person responsible for this real estate crisis is all found: the credit rates whose surge over the past 18 months has made it difficult to buy homes. But it is not the only one: the real estate prices which do not fall enough are also not foreign to this crisis. "Prices fell by 1.4% in the second quarter on average in Francesays Loïc Cantin. And the decline should accelerate sharply until the end of 2024.What to encourage sellers, who are not in a hurry, to lower their prices?