"Yseult has brought me luck since the beginning of the castings"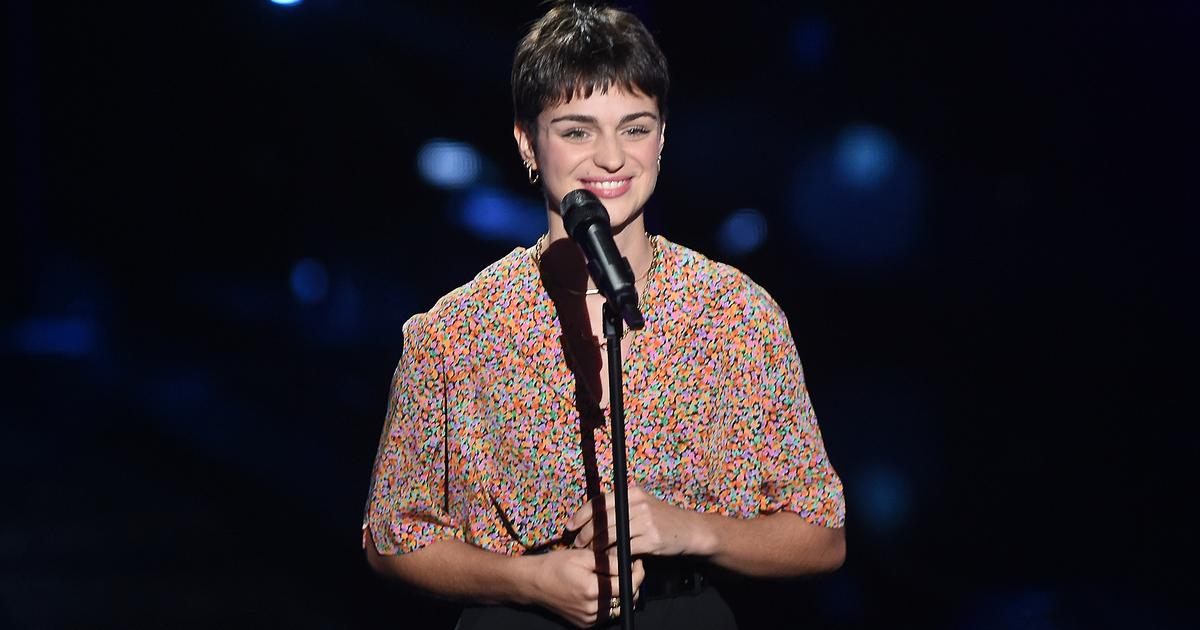 INTERVIEW – Thanks to a very nice cover of I love you d'Yseult, the 22-year-old Lyonnaise convinced the four coaches during the blind auditions for season 12 of the telecrochet produced by ITV Studios France for TF1.
"It's an absolute favourite! » For Pascal Guix, artistic producer of "The Voice" as for musical director Olivier Schultheisthe participation ofElise Clot at the blind auditions for season 12 of telecrochet was not in the slightest doubt. This student in the fifth year of engineering school in agronomy, agri-food and environment in Lyon is taking her first steps on a big music scene.
THE FIGARO. – How did you end up in this season 12 of " The Voice » ?
Elise Cloth. – A friend with whom I compose and make covers on social networks was contacted two years ago by a production person to find out if I would be interested in participating in "The Voice". I was pleasantly surprised but I had declined the proposal because I had to devote myself to my studies from September and I was going on Erasmus in Belgium. I was called back to take part in this new season and I went through all the casting stages last summer. I'm in a gap year, I have more time and I want to take advantage of it to devote myself to music.
How did you feel in this long casting process?
Very good ! I had no pressure, I didn't feel absolutely obligated to do it. I approached each step in a relaxed manner. It was a pleasure to meet people who share this same passion for music. The only pressure I could have was the one I put on myself to take up this challenge. When I start something, I want to succeed.
How did music and singing come into your life?
Very early, around the age of 4, I liked to listen to Edith Piaf's vinyls with my grandmother. I had a big crush and I trained to sing in the same way as her. For a very long time, I only sang inspired by his voice. It was only in middle school and high school that I wanted to stand out by singing with my own intonation. I started recording covers for social networks and performing in the street with a friend. The street is the best school, it's very formative.



"My parents were proud of me"

Elise Clot
Did your loved ones encourage you to start a career in music?
A lot yes, I had very good feedback from my friends and people who listened to me on the Internet. In the street, people took the trouble to stop to compliment us. Inevitably, all this boosts and raises the question of fulfillment in music.
Paradoxically, everyone was able to listen to you sing until your participation in "The Voice", except your parents…
During the blind auditions, I felt as much pressure to perform on stage as knowing that my parents were listening to me backstage. But once on set, I thought of nothing but my song. I can't say why I hadn't sung in front of them before. They knew that I sang and made music, they have always been a great support for me… Beyond my parents, my whole family had never heard me sing.
How did you feel meeting your parents backstage after your blind audition?
A lot of emotion, they were pleasantly surprised. They told me they were proud of me, it's something strong to hear from my parents. They were very happy, they had stars in their eyes. It was too cute. (Laughs.)



"I had the impression that Amel Bent had understood everything about me"

Elise Clot
Why did you choose I love you d'Yseult during the blind auditions?
Because she's an artist that I adore, she has an incredible voice, her musicality touches me a lot and she has brought me luck since the beginning of the castings. I had sung another song of hers, Body, which had aroused very good reactions, in particular from the producer. I was offered to try to sing I love you, I had a big crush. I worked on it for several days and it became obvious that I had to defend my chances at blind auditions with this title.
And the four armchairs turned around…
I realized it, especially when Bigflo and Oli as well as Vianney appeared at the same time in front of me. In my head, it meant that the adventure continued and it was a pleasure. I was able to completely let go. When Amel Bent and Zazie were added, I was over the moon. I made the most of the moment.
Why did you prefer Amel Bent?
I had the impression that she understood everything, she used the right terms to characterize me. It touched me a lot. I chose her for her experience and her voice, I had the feeling that she was going to bring me a lot in my learning to sing. I had never taken singing lessons and I wanted to progress with her.
What do you expect from this experience in "The Voice" ?
Music takes an increasingly important place in my life and I like it a lot. Without having high expectations, I will continue to work to progress. I know that I will return to my studies at the next school year because I want to validate my diploma at the end of my fifth year.