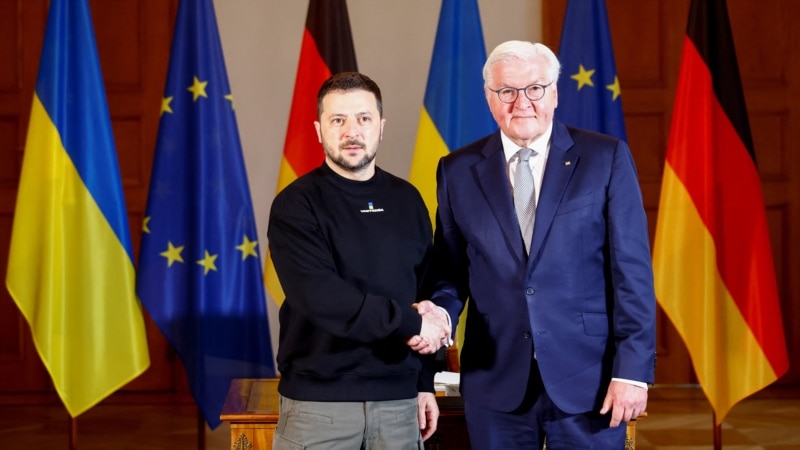 President of Ukraine Volodymyr Zelenskyy is visiting Germany. In Berlin, he met with the President of the Federal Republic of Germany, Frank-Walter Steinmeier.
"During the most difficult time in the modern history of Ukraine, Germany proved that it is a real friend and a reliable ally, which with all determination stands on the same side as the Ukrainian people in the struggle for the protection of freedom and democratic values," Zelensky wrote in the book of honored guests of the presidential residence , – "Together we will win and return peace to Europe."
Later, the President of Ukraine held talks with Federal Chancellor Olaf Scholz.
In the center of the German capital, in connection with Zelensky's visit, increased security measures have been introduced and traffic has been blocked.
The President of Ukraine arrived in Berlin on Sunday night from Italy, his plane was accompanied by fighters of the German Air Force. "Berlin. Weapons. Large package. Air defense. Reconstruction. EU. NATO. Security," Zelensky wrote in a telegram after his arrival in Germany about the topics of future negotiations.
The large package refers to the package of German military aid to Ukraine in the amount of about 2.7 billion euros, which was announced the day before.
From Berlin, Zelensky and Scholz are expected to go to the city of Aachen in western Germany. There, the President of Ukraine will be awarded the Charlemagne Prize for his contribution to European unity.
The day before, the President of Ukraine met in Italy with the leaders of this country, as well as with Pope Francis.